Walker and Rasse take the spoils at Zolder as title race tightens
Jonathan Walker and Gregory Rasse shared the Lotus Cup Europe spoils at Zolder this weekend, returning to winning ways after a tough time at Spa-Francorchamps last time out. Polesitter Walker's results have aided his championship challenge, however a pair of 2-Eleven class victories has propelled Jeremy Lourenco into the title lead with just one round to go, after a tough weekend for rival Xavier Georges.
Phillippe Loup finished third to Walker in race one, whilst Belgian Thierry Verhiest took the final podium place in the second encounter. Meanwhile there were two class wins for Nicolas Ferrer (Exige),and Egon Burkos (Lotus Cup Eastern Europe). David Harvey and Eric van't Oever shared the Open class honours.
A triumphant return for Greg Rasse's brother John saw him take the Production class win in the opening race with a superb ninth overall, twelve places ahead of runner-up and title challenger Andrew Wright. The Englishman fought back to lead the Belgian in race two, but the pair couldn't overcome Dave Carr for the category win.
Kevin Ritson, Press Officer, LoTRDC Ltd. | Photos courtesy of Gregory Eyckmans
Jon Walker (leading) and Gregory Rasse (122) shared the overall win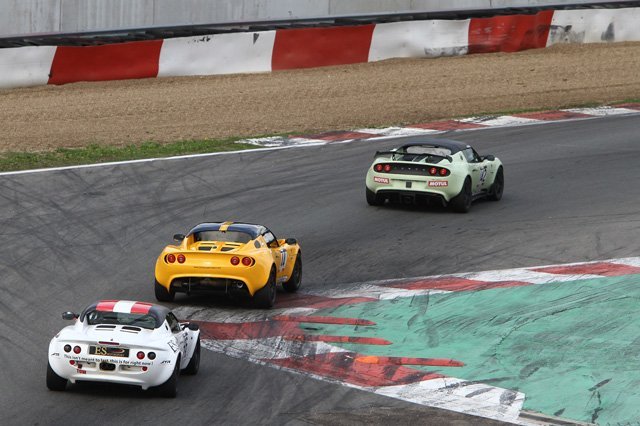 John Rasse leads Andrew Wright (44) in the Production class, the pair sharing the spoils at the Belgian circuit
The Lotus Cup Europe field heads into the first corner at Zolder