Triple thriller as huge Lotus entry takes on Spa-Francorchamps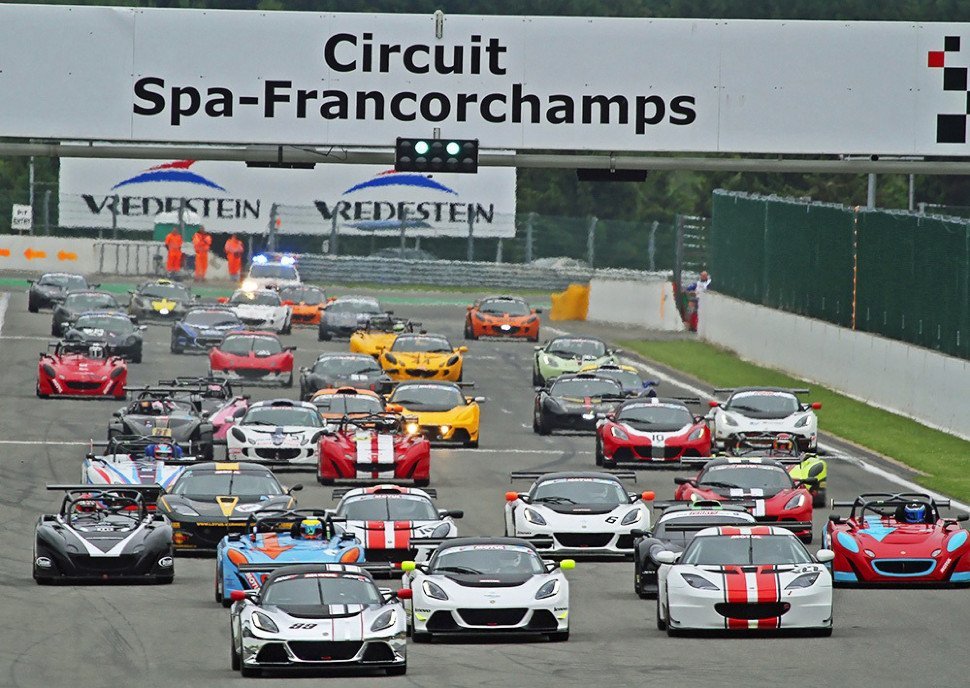 Nearly 90 cars from across the continent contested the Lotus Cup races at Spa-Francorchamps this weekend, with Elise Trophy, Lotus Cup UK, Lotus Cup Europe and Lotus Cup Eastern Europe all represented at the Belgian Grand Prix venue.
A strong drive from Ken Savage earned him a Lotus Cup UK victory, heading Marcus Jewell home for a 2-Eleven one-two. Positter and early leader Fabio Randaccio was unable to complete the distance after succumbing to a fuel pump failure and with front row starter Rob Fenn falling back in the late stages due to a faulty sensor, Savage was best placed to take the spoils.
Freddie Hetherington claimed the final podium position, heading the Exige class in his V6-powered machine, after passing reigning champion Simon Deacon and Open class winner Fenn after the pitstops.
In the Production class, which included an Elise Trophy entry boosting the total grid to 44 cars, Adam Gore and Fulvio Mussi fought hard during the opening laps. The pair headed into Eau Rouge side-byside at one point, but Gore eventually asserted his authority and kept his car out of reach from his rival. An early pitstop helped catapult Stuart Ratcliffe and Anthony Dunn into third place after a penalty for Ryan Savage foiled his attempts to make it a double podium for the family.
In Lotus Cup Europe, BTCC and Elise Trophy competitor Jack Goff took on the field and won the opening race, which also mustered a grid in excess of 40 cars, thanks to a contingent of Lotus Cup Eastern Europe drivers. Tyre problems for the V6 cars took both Greg Rasse and Jon Walker out of contention in the opener, but the Belgian driver was victorious in the second encounter after a battle with polesitter Nikolaj Ipsen. On this occasion both Goff and Fenn, who had elected to contest all three races, were forced out of the lead battle with issues.
Denis van den Savel and Nicolas Ferrer took the Exige class victories, with second overall for the latter in the second encounter, whilst Jeremy Lorenco's brace of 2-Eleven category wins boosts his title chances on a day when many of his main rivals hit trouble. Goff's race two retirement handed David Harvey the Open category spoils.
There was an entertaining pair of races for the Production runners, as reigning Lotus Cup Europe champion Thomas Dehaibe battled with Andrew Wright and Lotus Ladies' Cup regular Adrienn Bende from Hungary. Dehaibe won the opener, but a drive-through for track limits was accidentally taken by Bende in the second, leaving Wright to take the spoils, whilst Dave Carr reached the podium on both occasions.
Amongst the Lotus Cup Eastern Europe entry, European truck racer Benedek Major claimed the honours with 16th and 14th places in his Exige.